You're in the perfect place if you want to be primer-savvy. Why do you need primers for your projects? To be honest with you, primers will inevitably enhance your paint's quality and deliver a seamless finish.
Especially if you're working with bare wood, primers are a must-have. The best primer for bare wood is formulated in ways that will elevate your woodwork and sustain it in the long run. Be careful about exaggerated advertisements that claim that primers have to be a part of all painting jobs. It doesn't!
Heck, people fall into such traps only to find mercy in the hands of experienced users, professionals, and reviews later on. But, not anymore.
After thorough research, browsing through other reviews and users' ratings, we have finally listed our top 10 picks. We're here to answer all your questions on primers, the different kinds of woods that these primers are compatible with, how to spot the best primer in the market, and so much more.
If you're a newbie or even an advanced painter who's starting to skim the field, join us and read all about the best primers before it's too late. Don't forget to check out our buyer's guide section also for comprehensive knowledge.
Our Top 10 Picks for Best Bare Wood Primers in 2021:
Zinsser needs no introduction as it has marked a place in the hearts of painters just by being a significant part of the Rust-Oleum clan. It isn't only the oldest and more reliable brands to innovate the best sealers and primers but has also maintained its integrity ever since.
The Zinsser shellac-based primer is an extremely heavy-duty overlay that will keep your bare wood intact, stable, and long-lasting.
Don't worry about stains or odors either. The ingredients are made to cover up any resistant odors or stains. It possesses high VOCs and odor; thus, make sure your work area is well-ventilated. Other than its apparent credentials, it's also fast-drying.
Hence, you can apply double coats with shorter intervals in between. This shellac-based primer claims higher ratings as it dries faster than even water-based primers, which is surprisingly welcome to all users.
Pros:
Seals odor and covers stains
Dry erase markers can be used on top
Fastest dry-time
Usable on interior and exterior
Cons:
Are you looking for a deal that wouldn't cost you an arm and a leg? You're in the right place!
A stain-block primer could never get any better than this, and trust us on that. With an unimaginably affordable price range, you can achieve this best interior, oil-based primer for a promising service.
The oil-based KILZ primer sure does give off a heavy smell, just like any other contender. With such stringent odor, it is recommended to be used in a highly ventilated area. Mind you – this seal will work effortlessly on indoor crafts. Thus, ventilation is an obligation.
May your goal be to prime and shine your baseboards or wood trims; it can accomplish all of that with no repercussions.
Good news: The KILZ primer also has an active 30-minute dry to touch formula. Besides sealing odors and smells for eternity, it can also be utilized to complete recoating works quickly.
And the best part? You'll be done within an hour!
Pros:
Excellent for blocking stains
Versatile usage
Faster drying time
Budget-friendly
Cons:
Applies thicker than most others
Not for floors
We're always in a hurry, and that rarely ever changes, even when we're dealing with delicate works like painting or priming. Thus, we present the Krylon paint + prime for the restless souls.
The Krylon primer comes in a sprayer can; thus, it can be coated within minutes for better convenience. Along with that, the drying time takes about 10 minutes overall.
What a baller, isn't it?
Needless to say, it's a 2-in-1 spray bottle so, you don't need to spend uncountable hours painting, waiting, and priming your work. Go ahead, and invest your time in all the DIYs that you've been dying to get back to.
It is also pleasantly affordable and hits the jackpot for small projects or those that need an immediate fix.
Pros:
Durable
A quick spray, no mess
Dries within 10 minutes
Can be utilized on plastics, woods or metals
Apt for small projects
Cons:
Not enough product inside can for big projects
If our former sprayer option doesn't sit well with you, here's another excellent alternative. The most superior white coat in the formulation gives it a much-needed oomph for your projects.
Are you planning to sneak in stains? Good, because if that's on your must-do agenda now, then feel relieved. This Zinsser edition isn't only apt for tucking in stains but can be your best companion for smaller household retouches.
Apply it to your bare woods, and it will eliminate rough surfaces within seconds right in front of your eyes. Don't worry; it doesn't need sanding down either.
No matter how large your small task might be, it will easily cover up about 10 square feet worth of projects.
Pros:
Adequate for small tasks
5 minutes drying time
Great adhesive to any texture
Needs only one coat
Cons: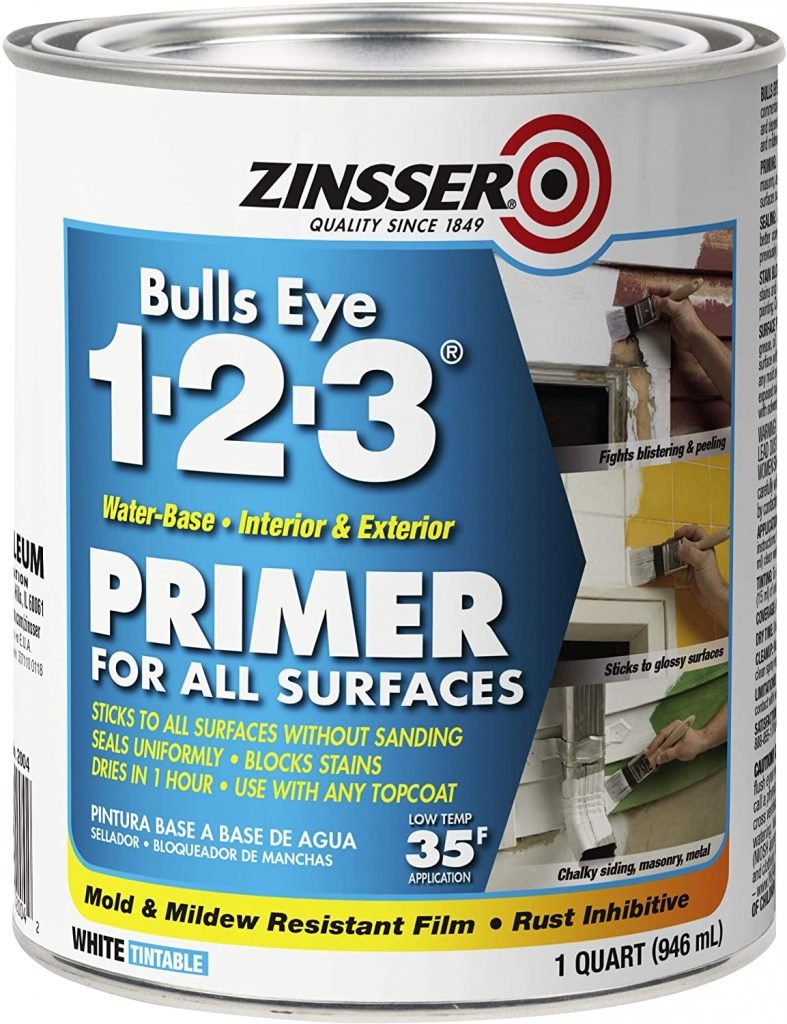 You're practically shoving your valuable bucks down the drain if you can't attain the full value in terms of versatility. So, here's our take on providing you with an unparalleled versatile primer.
This Zinsser primer can adjust to porous surfaces and, of course, bare woods. With spot-on enamel undercoats, you can attain higher efficiency as it will work for interior and exterior jobs.
Roll it on the firm surface, then simply go ahead and paint atop of it. And you're done. It's that simple! The catch here is that it's a versatile and all-rounder product that will prohibit cracking and chippings of the bare woods even years after application.
Did we mention that it can lie in with no adverse effects on latex and oil-based coatings too? Well, it really is versatile, isn't it?
If you're in dire need of revamping your whole house, you know who to turn to. Yes, you've read that right! Small projects? Huge projects? This can take it all!
Thus, due to its brand value and product usability, we had to put it on our list of the best primer for bare woods.
Pros:
Blocks stains
Applicable of multiple surfaces
Worthy of all kinds of projects
Mildew resistance
Cons:
Doesn't dry quickly
Thin texture
When it comes to craving the smoothest finish, where else can you reside to if not with splurging on KILZ primers? Filling in imperfections has never been this quick and fun — thanks to this high stain blocker.
But, let's dig in deeper to know if it's all fluff or true.
This is arguably a top-notch primer for its increased functionality over porous textures that make it adjustable to most softwood designs. Worry not; it wouldn't budge a single grain out of place when in contact with your masterpiece.
On the other hand, this is also acclaimed as the best primer for bare wood because of its exceptional qualities that increase its worth compared to regular water-based primers. Especially, when it comes to covering up stains, anyone else can hardly win.
This KILZ primer will also be a winner if you're opting for color interchanges on your woodworks. So, what are you waiting for?
Pros:
No VOCs effects
Adequate for moist areas
Protects against mold and mildew
Applicable on interior and exterior work
Cons:
The KILZ General Latex Primer? Hands down the best latex-primer that we've ever seen in action. It can truly provoke magic. And here's how.
If you're looking for top-tier sealing and protection for your bare woods, this is where you stop looking. It actually works as a 2-in-1 edition of sealers and primers.
Yes, you will be priming your art, but, by doing that, you will also be binding it with an ever-lasting seal. The banger is that you can do all that within just an hour of not-so-hard work. Amazing, isn't it?
If your allergies flare up due to the primer's odor, you will forever be grateful for this invention as it lacks that strong, unbearable odor unlike most other latex-based primers in the market. It's safe to say that you will be delivered desired results no matter if you apply it on masonry, wood, or other surfaces.
Not bad at all, right?
Pros:
300 to 400 sq feet coverage
Great adhesion and fast dry-time
Will seal porous textures
2-in-1 solution
Less odor
Cons:
Not for flooring
Not good as stain-blockers
Here's an underwhelming secret that nobody will ever reveal to you; priming can be extremely challenging at times. Sorry for the truth bomb but, it's a fact!
However, this INSL-X primer is just what you need trying times. It's formulated to not only keep the moisture intact but also provide extreme strength to your finished product.
The 2-in-1 primer and sealer can be utilized for both indoor and outdoor jobs. Moreover, it will put up a seal so powerful that even humid won't crack through your woodworks.
The best part? It can serve you immensely even under the lowest temperature, such as 35-degree. With 3 to 4 hours of drying time, it can withstand the sun and the cold.
Pros:
Works perfectly for glossy surface
Locks out humid and moisture
Less odor
Can withstand any temperature
Cons:
Take a whirl of this Zinsser primer to know that adding a steep value to your spendings is actually easily possible, sometimes. Intrigued? Let's get in.
The water-based, odorless has the ultimate capacity and strength to block stains on your upcoming or on-hand project. Its high-hiding brilliant white color accomplishes your absolute necessity – obscuring stains.
Furthermore, it can also conceal tannin, sap, and knots with its extreme adhesive powers. The contrast of thickness and sheerness on this Rust-Oleum product is so exquisite that it's actually mind-boggling how they attained it.
Don't delay in grabbing this deal for more comfortable cleaning and utilization process. Save money, time and get returns with professional-level results.
Pros:
No-hassle in cleaning
Great usability
Great adhesive properties
Covers stains instantly
Cons:
Some users complained about not hiding tannins
We have saved the very best for the last. It's guaranteed that you haven't met an adhesive primer this strong and… sticky before. Let's find out why.
Perfect for old and worn-out bare woods, the KILZ product can also prevent paint bleeds and elevate your work with the smoothest finish. It has a water-based density. Thus, you can blend and mix it with any wood.
Yes, you guessed it right. This is the ultimate all-rounder product that will suit any and all types of woods, work, and tasks. Yay!
Another unique feature that it beholds is its 30-minute drying ability. Hence, before you know it, you can apply a second, fresh coat. What's even better is its 300 sqft coverage per ton.
So, get crazy with this unmatchable primer that fits all plans and on all kinds of material. Metal, woods, or even fiberglass, you name it, and it's your go-to option to save the day.
Pros:
Good for rigid surfaces
Stain-blocker
Porous surface sealer
Mildew resistant
Cons:
Results aren't top-notch when sprayed
Buyer's Guide for the Best Bare Wood Primers:
So, you're finally taking the wheel and opting to prime bare walls, but do you know which products to choose? Diverse kinds of primers are adaptable to complex and minor projects that you might take on.
Thus, to know all about the best primer for bare woods and what they're capable of, keep reading!
Type of Primers: There are two kinds of primers; oil and water-based. Oil-based primers offer a rigid-textured finish and are priced higher. As the strokes are flexible, the results are shinier. It wouldn't flake afterward like other contemporaries. On the contrary, oil-based primers take prolonged hours to dry and aren't a must-have for a few projects. Thus, if you're looking to strengthen your work, choose oil-based primers. On the other hand, water-based primers dry quickly and will not have risks associated with toxins and fumes. Thus, they are cheaper, easier to use, clean-up, and safer alternatives.
How Much Do You Need: Let's give it to you straight. After opening the can, primers aren't designed to last long. We would recommend not going overboard and buying excessive amounts. Buy only a tad more than your work requires. Make sure it is only a 'tad bit'.
Exterior Or Interior: Not all primers are suited for exterior usage and vice versa. This shall not pose a threat to your choices, however. Purchase only after reading the labels and descriptions.
Features: Some primers are exaggerated while advertising and for a greater number of sales. Fortunately, not all of these impressive benefits are a hoax. It's safer to cross-check with previous users and read reviews of the particular primer you've been eyeing. Since your money is undoubtedly involved, make your investment worth it.
Frequently Asked Questions (FAQ)
What is the difference between normal and bare wood?
Prefinished woods are entirely done and sealed with coating, staining, and sanding. Whereas bare or unfinished woods are installed before sanding down and then refinished on the project site.
Do all Primers Work on any type of paint?
There are three types of primer; Shellac, oil-based, and latex. Oil-based primers are versatile and can be used on wood, metals, steel, or any surface with preexisting paint atop of it. Latex primers are more liquid and water-based and used as a prerequisite coat before painting bare drywalls. Shellac primers are best used as stain-resisters. They can seal smoke or water damage.
How long do bare wood primers take to dry?
Primers might feel dry to touch a few hours after administration. It's best not to interrupt the process until about eight hours after applying and 24 hours before applying paint or an oil-based coating on top.
What Harm, does VOC do to the Primer?
VOCs can affect humans with adverse consequences like headaches, dizziness, nausea, or skin irritation. They are risk-prone to daily and seasonal workers, no matter how short or long their work hours are.
Should I sand before or after using a primer?
It's necessary to sand down your project after applying primer as it will give the surface a smooth finish without leaving behind blotches, brush marks, tiny globs, and remaining fibers on the drywall.
Can I use primer over wood filler?
Only after the wood filler has served its purpose and sanded over you can prime your project. Priming can leave a post wood filler-applied area with a smoother surface and result.
Conclusion:
Primers seemed like the most effortless routine of this entire ordeal at first, didn't it? But hey, now that you've read all about the best primer for bare woods, we hope you're a touch stress-free and at least know which direction you're headed.
Amongst all these varieties, don't get lost. Choose whatever fits your budget, preference, work at hand, and certified quality. Now, grab your trustee painting brush and get to work with WoodMixers Team!
Author Bio