It's a no-brainer that the woodwork adorning your entire house is meant to dry or chip away at some point during its course of life. It's inevitable and heart-breaking, especially when you have to choose to replace your old, worn-out tabletop with a fresh one, reluctantly.
But, don't!
You might only need to splurge on a decent polish for your kitchen top or dining table. Because let's get real, how long will these exquisite pieces keep up with spilled coffee and scratches from cutleries, right?
Don't worry; as impossible as it seems to maintain your beloved home decor, it's quite simple, even if you're a newbie to this game. We are pretty big on long-lasting investments and if you're one of us too, hop in on this bandwagon as we've found the correct solution to this misery.
After thorough research, we have jotted down 10 of the best polyurethanes for tabletops that are meant to revamp your wood within mere hours. Don't believe us?
Keep reading! You will find out all about their outstanding features, pros, and cons. Beginners – don't break into a sweat yet; browse through the buying guide to acquire more insight on choosing the ideal polish according to your next projects.
Our Top 10 Picks for Best Table Top Polyurethane Finishes in 2021:
Searching for the best polyurethane for interior wood polish? So were we! And thus, we've found the ZAR 33912, which accommodates various kinds of wooden surfaces.
The trick with interior polishes is that you want it to keep the wood intact while supporting its natural aura. The ZAR polyurethane does precisely that with its divine curing mechanism.
The formulation is self-adjusting, so you don't have to waste time with re-applications. Pro tip: Use it on your hardwood floors if you see that it's chipping away.
With a lower odor and swifter drying time, it also resists abrasion and protects your woodwork even on maximum friction. Your search for a durable and fresh-looking layer ends here.
Pros:
The self-leveling formulation restricts re-application and saves time
The finish is crystal clear and extremely smooth
You can also use it on your hardwood floors so, it has diverse usage
Can withstand high friction and abrasion for a lifetime
Cons:
There have been a few complaints about the polish peeling away after use
Here lies the true beauty of a water-based polyurethane; its transparency. And there's no pun intended here.
If you want to upgrade your current tabletop's natural beauty and authenticity, you want Varathane to take over. It's not only one of the best polyurethane for tabletops but, it's also acclaimed for featuring the ultimate scratch and stain-resistant properties.
The clear coat provides absolute protection and continuously works to preserve the wood's original color, unlike most other water-based polyurethanes.
As it dries rapidly, you can layer it on any furniture, trims, or windows. You will be left with a classy, satin finish with utmost clarity. Needless to say, it's effortless to clean. Simply use soapy water to remove any dirt, and voila!
Pros:
As it's water-based, it will dry within a few minutes
Provides distinct, clear coat with top-notch clarity
It will keep the natural design, and beauty of your furniture intact
You can clean it spontaneously using soapy water
Cons:
The product doesn't mention its toxicity levels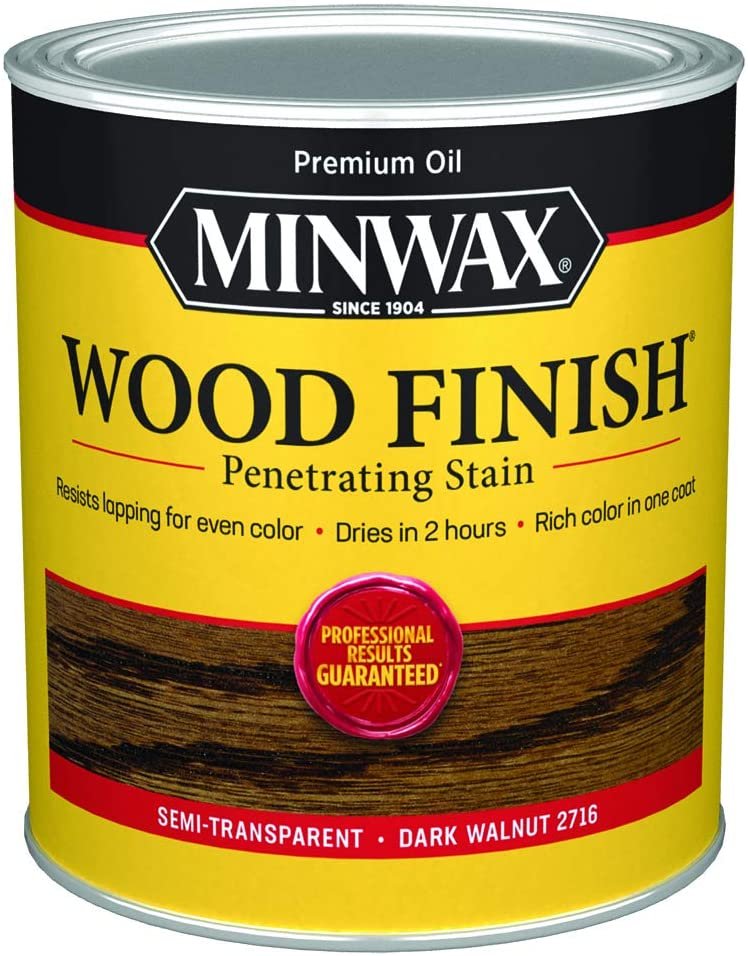 Who doesn't love versatile polyurethane that will go on smoothly for both finished and unfinished wood, right? Let's see if this MINWAX polish bodes well with you in terms of value and versatility.
If you're uncertain about how to apply and which polyurethane to get, don't worry. This easy to use polyurethane serves the unaccounted souls well. You can employ lambswool, bristle, and foam brushes to apply this; thus, sit back and take it one layer at a time.
Speaking of layers, you wouldn't need to consume hours waiting and another few hours recoating your furniture. Why? Because of its fast-drying technique, of course!
Whether you need a quick fix or you're busy with other chores, apply this fast-drying layer, and you're good to go. You can also handle the rest with sandpaper if you think the surface is rougher than usual and then proceed to apply the next layers.
Pros:
You can choose from a whopping selection of 28 colors
Use it if you're keen on maximizing the beauty of your wooden surface
This polyurethane is known for penetrating into the deepest wood fibers, highlighting each grain
You can opt for any application technique according to your comfort
It's extremely long-lasting and efficient in preventing stains
Cons:
If you apply it over paint, you can be left with a yellow-effect or top layer
You will need to apply a few recoats or layers
There are plenty of modern trends to amp up your current tabletops' appearance. Some people use a simple vase to complete the whole look, while others reside in polyurethanes.
If you're mainly on the look-out to layout polyurethane on your kitchen tabletop for a glossy finish, here's a product that will never break the bank or your heart.
The Minwax comes in two colors and adds excellent value to your rigid surfaces with a shiny finish. Due to its water-based formula, you can also attain long-lasting protection on your woodwork.
Furthermore, if you're about to upgrade your kitchen countertop or dining table, keeping it clean is necessary. But then again, these are the places where most dirt and food bits reside.
Don't worry; due to its low odor, water-based formulation, just one swipe should do the trick. Even with constant rubbing, cleaning, and spraying with cleaners, the top layer will not turn yellow.
Pros:
The formulation has the nicest blend which gives off a glossy finish
The product is extremely versatile and apt for indoor usage
It's long-lasting and even after years of use, it won't turn yellow
Adds value and a classy look to your décor with its crystal clear polish
Cons:
Some users have a complaint about witnessing a few cracks
Truth be told – there's no stopping to the endless polishing that we will commit to once we capture the best polyurethanes for tabletops but one that's even more versatile.
The tiny knick-knacks on your kitchen cabinets, trims, doors, windows, and hardwood floors will never go unnoticed in your eyes once you and your versatile polyurethane are against chipped woods.
If this speaks to you, check out this Minwax edition that guarantees extreme durability and versatility no matter how or where you use it.
What's better than getting to choose between semi-gloss, glossy, and satin-finish versions? Nothing provokes more flexibility or value other than times like these when you're presented with an array of choices.
You can also opt for cans or aerosols, depending on which one intensifies your comfort during use. Wherever your convenience lies, it will be assisting you with high ease of use, application, and fastest drying time.
Pros:
You will avail a ton of versatile options, and terms of use
It poses the fastest drying time so it wouldn't consume half of your day
It comes in various shades for the closest match to your woodwork
The formula is spot-on for both finished and bare wood
Cons:
You might notice it turning a yellowish color as it doesn't have the non-yellow formula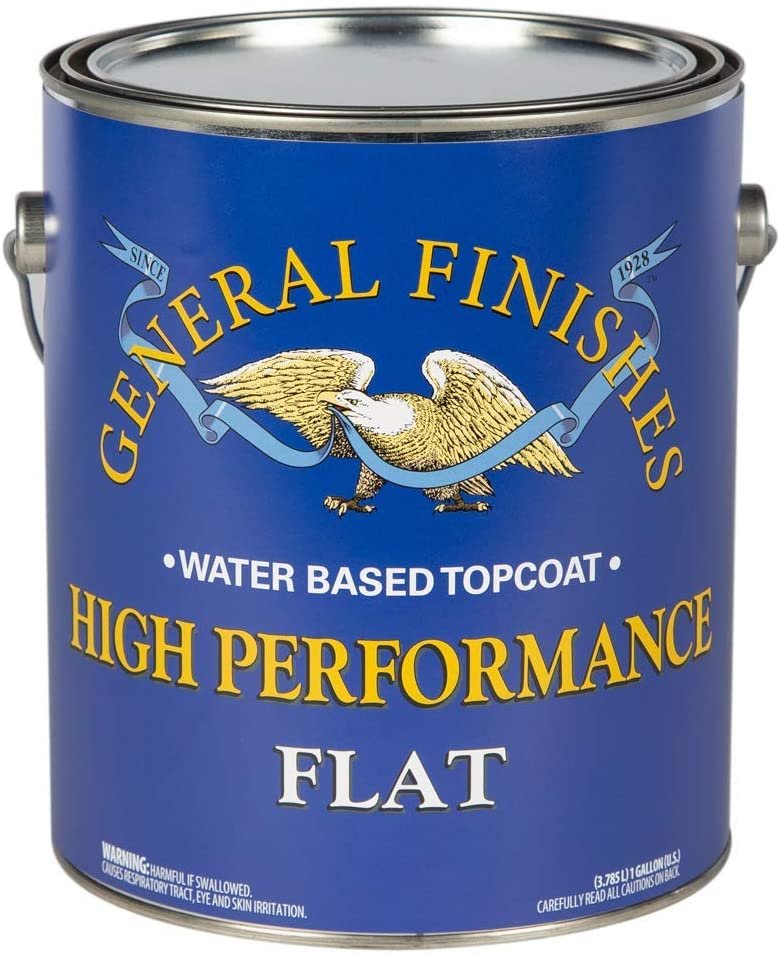 Personally, I love products with a couple of variable options. I get drawn towards them more when I know that I'm not restricted to one particular color, use, or feature.
Sounds like something that resembles your buying habits too? Then keep reading.
In our list of the best polyurethanes for tabletops, the General Finishes has appeared more than once due to their diligence in producing fantastic specifications. And that doesn't differ when it comes to this water-based version either.
Here are some of the dependable whopping features in this deal. It dries down into a thin, sheen polish, with a longer curing time and application ease.
Due to the longer curing duration, the results turn out to be rock-hard. Moreover, you don't need to be a pro at this. Go ahead and apply this polyurethane with rollers, bristles, or foam brushes.
The outcomes will be as exquisite as expected with either of the applicators.
Pros:
The finish turns out to be a clear sheen as it's water-based
It's highly durable and will last a long time on tabletops
The product is diverse and lets users apply it according to their comfort
One of the best features of this is that it's packed with UV stabilizers
Cons:
Not great for white-toned woodworks as it will leave a yellowish layer on it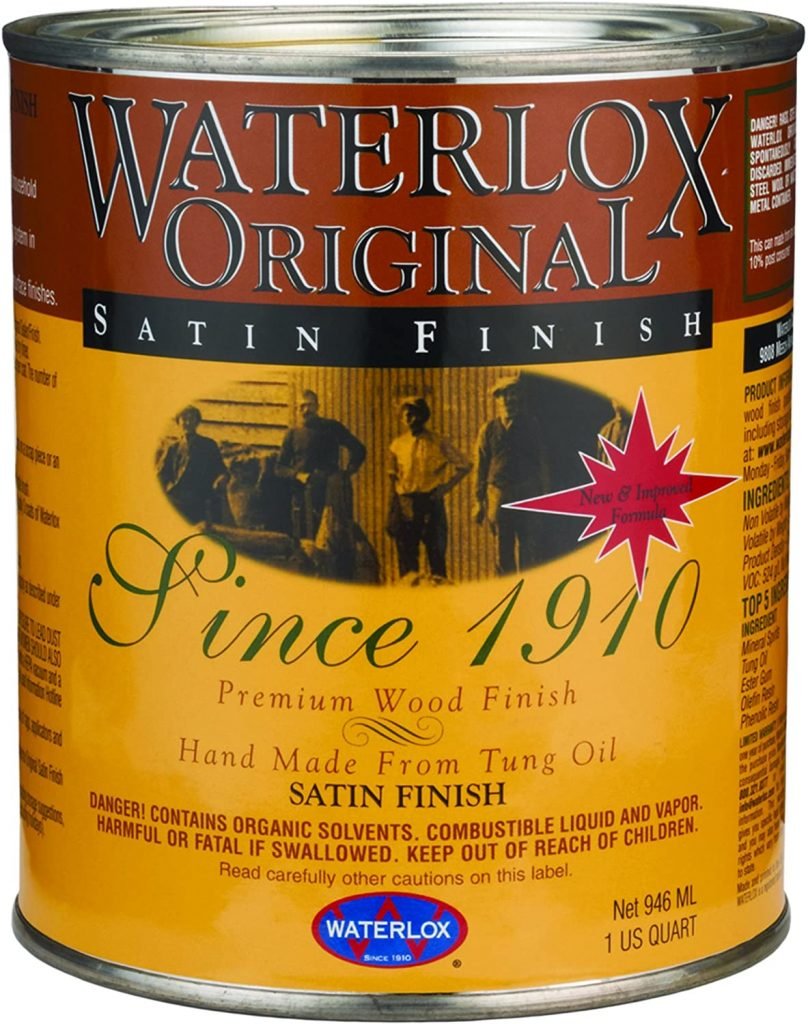 Come, meet the one of a kind formula that utilizes all-natural and renewable sources for producing its resin-based features. Satin-finishes have never known such a comprehensive blend, and we're here to tell you why.
The formulation is so precise that the product will penetrate deep within each of the wood grains. Not only that but with adequate application and preparations, you can attain the most-extraordinary, professional level, protective coating unlike any other.
And due to such excellent penetrating powers, your child can spill or spoil without any adverse remarks from you. A single wipe and it will leave the wooden surface forever.
Side note: Remember to ventilate your work area well before use. The product gives off a moderately strong scent, making working conditions irritable.
Pros:
The formula is a mix of 90% natural elements which makes it highly durable
It is anti-scratch and spill-resistant
The formula can penetrate deep into the wood grains and form a protective cover
The satin, clear sheen finish is one of a kind
Cons:
If the room isn't well ventilated, the odor could make work hours uncomfortable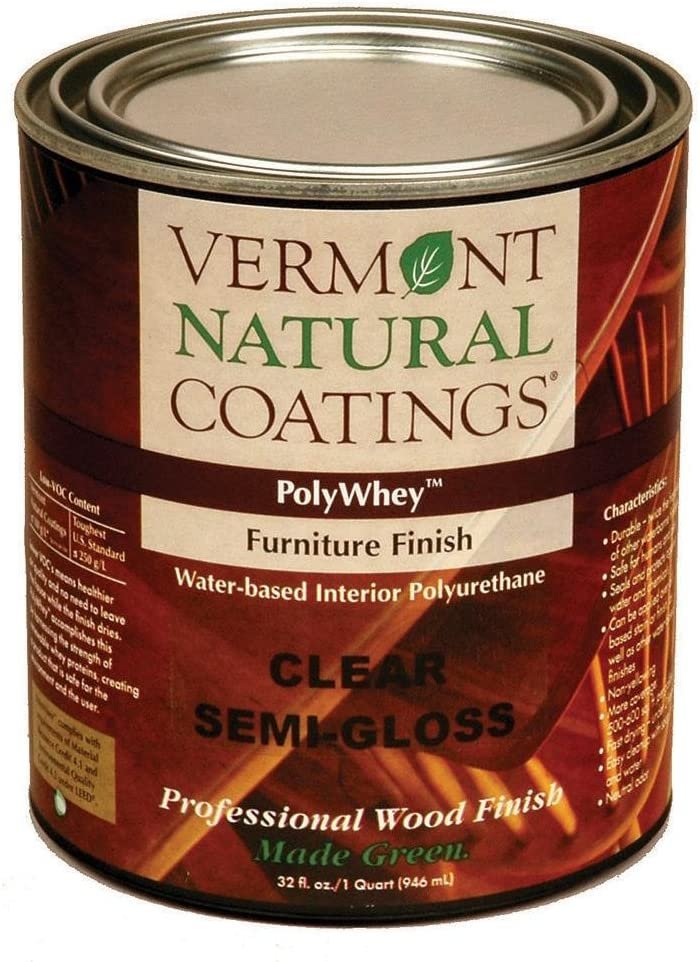 While coating polyurethanes, it is bound to knock at our environmentalist corner. Worry not; if that's the case, then perhaps this could be the remedy.
The environment-safe Vermont Furniture Finish is entirely water-based and dedicates its lifetime goal to preserving your tabletops. The shield that it erects around the wooden surface is unparalleled, giving ways to optimum protection and beauty.
Good news: It possesses low VOC elements as it's water-based in nature. This also means that you can breathe in easily during prolonged job hours as the low odor level doesn't make polishing troublesome.
You can avail of this finish in either a satin or semi-gloss finish. Fortunately, its features are safe for kitchen use, too, so you can polish and paint this on utensils, countertops, and so on.
Cleaning is even homelier with this. Just a tad bit of soapy water should accouche squeaky-clean tabletops.
Pros:
Results in the cleanest and clear finish
Extremely easy to clean with soapy water
It's environment-safe thus, can be used for interior use and even on kitchen appliances
It has a bearable odor and quick drying time, posing high convenience
Cons:
As this doesn't have the good properties of an oil-based finish, it isn't recommended to be used on bright and white surfaces
Any doubt that you might have on this brand, well, shove them out of your window. The amazing brand has pivoted its brand name solely based on consumer trust.
Don't believe us? Take a gander.
Throughout its years of service, Grizzly has produced this waterproof goodness, which is a win-win no matter where or how you use it. Needless to say, its waterproof addition is yet another grapevine of its durability.
Being odorless with an offhand application is a combination that's rare to find. It dries promptly and leaves behind a non-glossy and modernistic look.
So, if glossy textures aren't exactly your favorite gig, this will assist you modestly.
Pros:
Best for users who don't like a glossy finish on their wooden furniture
The waterproof feature also gives ways to high durability
Absolutely odorless so, that's a big plus if you're allergy-prone
You get the ease of application if you purchase this polish
Cons:
The Grizzly is a bit on the pricier side
General finishes have always delivered premium products that elevate your woodwork with its everlasting and durable ingredients. The finishes are so neat that some use them to trick people into believing that they banked new furniture.
With one swipe of this oil-based polyurethane, you can attain a seamless hardy barrier on your tabletops. Moreover, if you're all about rustic-looking, antique wooden tops, give this a try for effective results.
Did you know that most users never go back to their previously used brands or newer ones after trying out this bad boy? Yes, it's that good.
It wins heart all around the corner with its smooth satin finish, which gives it a fancier touch. And the best part? It comes in 3 colors, which can be applied with rollers or brushes, and boom!
You're done!
Pros:
You can brush or spray this polyurethane so, it's great for professionals and newbies
In order to obtain sustainable finishes, this is the best choice
You can buy these in gallons, quarts, or pints for greater value
You will need no assistance while applying this polyurethane
Cons:
The finish will affect the wax coats beneath which many users find unsatisfactory
Buyers Guide for Best Polyurethanes for Table Tops:
Since we're going all in to review the best polyurethanes for tabletop, we thought it would be wise to bestow you on some fundamental ground rules that you must abide by before your purchase.
You'll have to know the do's, don'ts, and a few must-have features that your wood polish needs. Similarly, you must also know several boundaries and big-NO features that you never want to invest in.
So, without further ado, let's see what's the big fuss is about.
Durability: Does your current wood polish frequently get your hands rough and provide friction while working? Toss it in the garbage if that's the case. A huge step towards finding the perfect finish on your wooden textures is to opt for a product with high sturdiness. Thus, never grab polyurethane that poses below-average features, lifetime, or ratings.
Curing Time: Pay attention to the drying time that the product you're eyeballing states to be. Curing time might be a tad prolonged in some rather than others, which would be of higher jeopardy if you have restless kids or pets around. A shorter drying time will let you apply double coats of polyurethane quicker and be done with it faster.
Application: There will most definitely remain a few notable and sneaky faults here and there, especially if you're a beginner. But hey, a few faulty brush strokes never hurt anybody. The tool you use to apply polyurethane must be tactical. For a smoother finish, opt for fine brushes or spray bottles.
Type of Wood: You can't possibly invest in the first polyurethane you lay your eyes on right off the bat. You must know what kind of wood you're planning to overlay the polyurethane on. Take proper post-preparation steps for the complimentary wood type and polish to sit well with each other.
Types of Polyurethane: What do professionals have to say about this tug of war? Ask around, and the answers will be monotonous as users have always preferred oil-based polyurethanes for woodworks. It will overlook your noob application errors and form an impenetrable exterior atop the wood once it hardens. So, spilled tea and food can never stain your masterpiece.
On the contrary, water-based polyurethanes are always given higher priority when working with lighter wooden hues. As it adds a distinct, clear finish, it's perfect for light-colored tabletops.
Frequently Asked Questions (FAQ)
a. How to Apply Polyurethane on Table Top?
Apply one thin layer of polyurethane with a cloth, fine brush, or foam pads. If you add too many or thick layers of polyurethane, you'll risk lifting the grains. You can put the second coat after the first one dries, which should only take a few hours.
b. Oil-Based or Water-based? What Kind of Polyurethane is Good for Table Tops?
For polyurethane tabletops, oil-based editions are better. They dry tougher thus, shields the tabletop with an impenetrable coat. Oil-based polyurethanes last longer too.
c. Can you Apply a Polyurethane Coat over a Painted Surface?
Yes, adding a layer or two of polyurethane will indeed block and intact the paint's layers. Even though oil-based polyurethanes take longer hours to dry, the finish is relatively smoother. Apply a layer of polyurethane on any paint to protect it.
d. What is the Best Polyurethane for a Wood Surface?
Apart from our list of the best polyurethanes for tabletops, we've also found out that brands need to be considered thoroughly before making a polyurethane purchase used for wooden surfaces. Some of the best brands and products are Bona Traffic HD, Loba 2K Supra, and Duraseal. We have provided the links to these products below, for you to check out.
e. What is the perfect way of applying polyurethane on a wood table?
Usually, to attain the best results, it's recommended to add thin layers of polyurethane one at a time with the help of a cloth, foam pads, or fine brushes. Don't rush the process and add a second layer only after the first one dries.
f. Can I use wax or oil to finish a wood table?
Multiple wood oils have taken over the market and proved themselves to be useful. Hard wax oils are a great alternative for a long-lasting and durable finish.
Conclusion:
Still, doubting if polyurethanes are the safest way to go? We bet not!
If you pour your money in the right bucket and the best polyurethanes for tabletop, you will be devoting your money to long-lasting wooden projects.
So, don't delay on this journey. Spend a few bucks and gift yourself with the newest furniture – even if that's not the case. Don't worry; we won't tell anybody about your secret!
Stay with Wood Mixers to know more about Polyurethane.
Author Bio